Mind, Body & Spirit - Next Retreats:
Casa la Concha
is the perfect place for yoga teachers to organize a yoga retreat. This year we have been having groups from all around the world, from countries such as Bulgaria, the United States, Russia, Spain etc.
If you are a yoga teacher looking for a venue for a retreat (not necessarily yoga) please get in contact with us to discuss. We will be more than happy to help you organize different activities such as hiking, massage, photo sessions, workshops, coastal walks and horse riding.
Please make a reservation in advance through +34 646 52 08 83 or email casalaconcha@gmail.com
Order your own retreat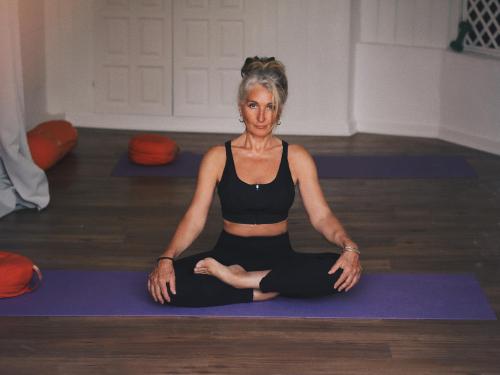 Wellness retreat is the perfect solution for those, who are seeking to find peace and calmness for a long time. Casa la Concha Boutique Hotel gives you a mix of different activities: Daily Yoga and Meditation, a full body Massage, Art Therapy, a Workshop on organic products and much more. Join us to relax and reconnect with your true self, with nature, rejuvenate your body and mind, and leave feeling inspired, refreshed and peaceful. Located in the most beautiful part of Marbella, Casa la Concha provides an ideal environment for meditation, contemplation, rest, and relaxation.
Please make a reservation in advance through +34 646 52 08 83 or email casalaconcha@gmail.com
Our Retreat Team: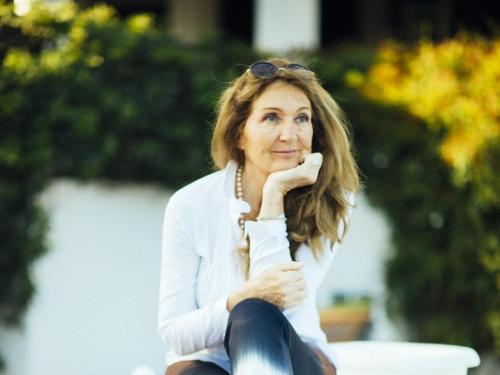 Marie - Helene Burot - Host
She will be your host at Casa la Concha. Marie-Helene is the owner of this fantastic boutique hotel. Always with a smile and a warm welcome, she makes guests feel like at home. She will be in charge of making this Yoga retreat flow with a positive energy, so you won't have to worry about anything. Her purpose is to make you feel at ease and relaxed, by taking care of you and all the details.
Adelaida Villalba
- Yoga teacher and massager
Adelaida has been doing massages since 2004. She has trained in numerous styles, in Argentina, India and Thailand, among others: Californian, deep tissue, shiatsu, biodynamic sacral skull, Ayurvedic, Tibetan, foot massage and traditional Thai massage, from which also gives courses since 2006.
Currently she uses all the available tools, added to the knowledge that yoga provides of the body, and her listening as a psychologist and therapist in body psycho techniques (Río Open system) to provide each person with a massage that he needs, whether treating ailments specific or to have a moment of relaxation and connection with yourself.
Regarding yoga, she discovered the great power of transformation she had in her life. Since then she has not stopped practicing and studying different styles, from the traditional hatha yoga, Iyengar, Anusara and ashtanga, mainly.
She has trained at SVYASA, Bangalore, TT200hs, hatha yoga, Anusara, Iyengar with Sharat Arora, Usha Devi and Chanchani, in India, and completed the 500hs training certified by the Yoga Alliance at Yogashala Institute, Marbella.
The benefits of yoga are physical, giving strength and flexibility to the body, organic, making each of the organs improve its functioning, and many other virtues that it shares with other physical activities. What she adds, is the way of working, looking for the one who practices to be present in what he does, and thus to experience that unity that we are body and mind, beyond both. It is feeling that well-being when the mind becomes still and you connect with the heart.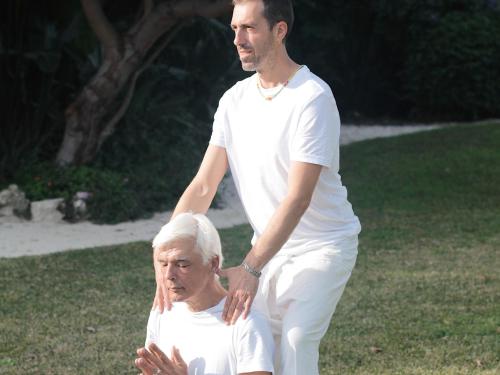 Juan Dominguez -
yoga teacher and massager
"My experience as a massage therapist - Chiromassageist training - has given me to love my profession, and to know that training is a path taken and not a goal.
Fond of good music, dancing and dialogue; Last year I started receiving Biodanza classes. Each class made me feel better than the previous one, and that is where I begin to appreciate, really, that the influence of the vibration of the sound and the movement of the dance, make my massages, both body and facial, have improved positively.
The massage is sacred; That is why I put all my heart and attention so that in the exchange of energies carried out in it, they make my neighbor feel in a state of fullness, and therefore not fail to confirm that "the like is self."
I started with the Japanese Facial Massage with lifting effect, known as Kobido, with an aesthetic idea; After the first treatments, and a conscious assessment of this facial massage, I change completely to treat it from the perspective of health; obtaining even better aesthetic results - let's not forget that the face is the mirror of the soul - and a great harmony between spirit and body."
Nadica
- massager
Nadica is an amazing
Ayurvedic
massage specialist.
Developed by the Yoguis, Swamis and ancestral doctors, Ayurvedic stems from traditional Indian medicine. It is also recognized by World Health Organization as a practical use of alternative medicine. Besides traditional ayurvedic massage, Nadica offers different types of massage: Ayurvedic with pindas and vapor, Bambu massage with pindas, Hindu Craneal, Nadi Abhyanga, Shiro Dhara, Navarakizipinda, Craneal Ayurveda, and massage with pindas.
NEXT RETREATS 2020:
Retreats at Casa la Concha can be about anything!
April 13th - 17th: Crochet Workshop with Laura Dam-van Schagen
May 21st - 25th: The Lightness of Being Retreat with Tammy L. Sands, a certified Ayurvedic yoga specialist
September 10th - 14th: EnerQi Retreat with Karin Cavigelli
November 3rd - 7th: Crochet Workshop with Laura Dam-van Schagen
Please feel free to contact us via email or phone for bookings and inquiries.
Reviews: